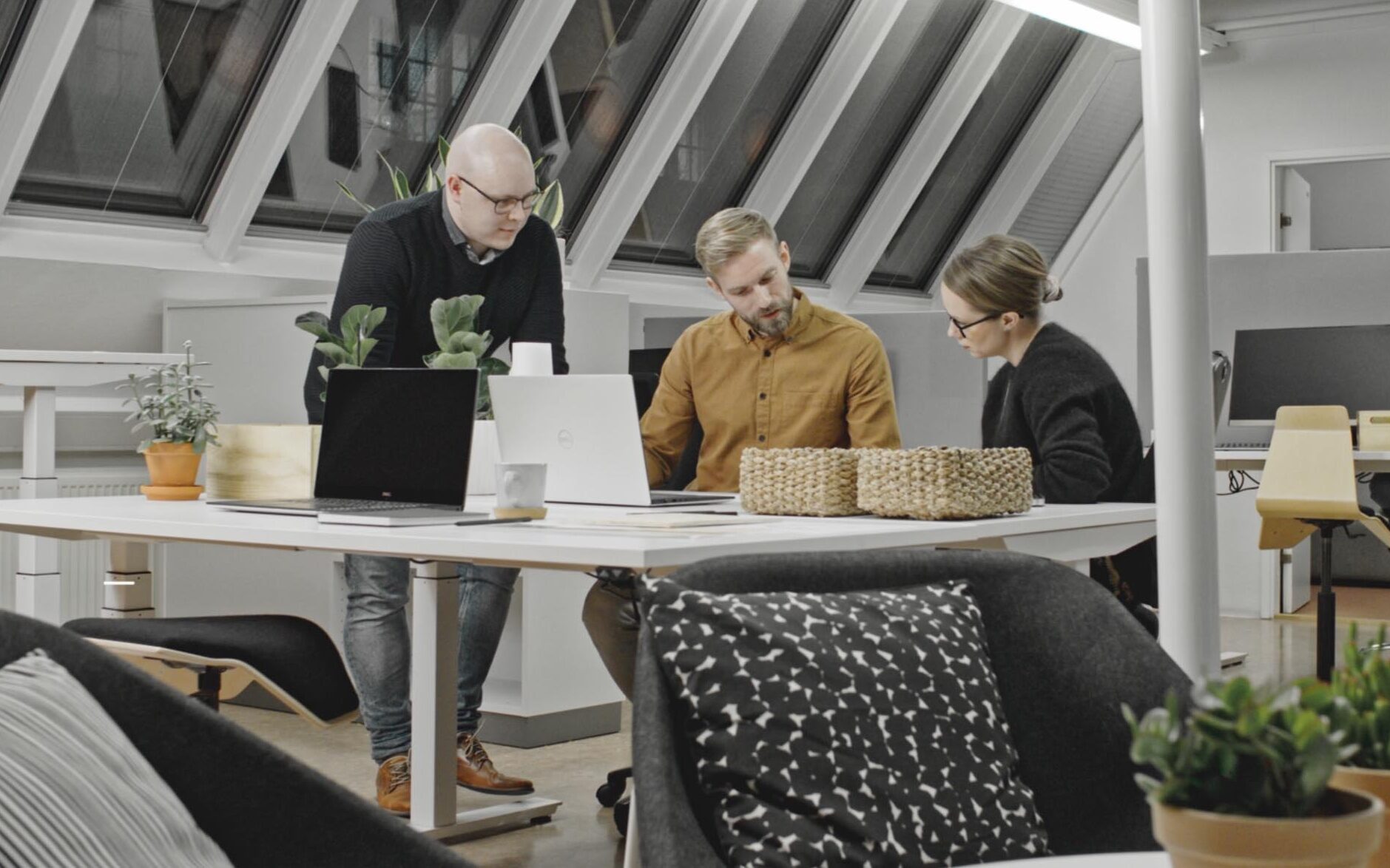 About us
A design firm for creative people
Having a strong group of innovative thinkers makes it possible for us to offer a comprehensive and diverse range of services, from land use planning to the details of interior design.
The diversity of our employees is one of our strengths.
Our architectural firm is full of diverse expertise. We have new designers who are taking the first steps in their career working side by side and on an equal footing with seasoned professionals. We combine considerable experience with fresh and new ideas, creating unique opportunities for new perspectives and insights to emerge.
Basic facts about us
We are Lukkaroinen – a nationwide architectural and interior design firm with over a hundred professionals. Over our long history, we have designed more than 3,000 projects from land use to the details of the interior design.

4
Three offices – Oulu, Helsinki, Turku, Kokkola
~ 100
A work community of about 100 people
3000 +
Projects completed
We care about the environment
We want to move the property and construction industry towards carbon neutrality together with our clients and other operators in the industry. Our goal is for our own operations to be carbon neutral by 2035. However, we recognise that our real chance to influence the sustainability of the property and construction industry is through the properties we design.

We meet the challenges of the future by increasing our designers' expertise in designing sustainable and low-carbon environments. We are part of the Finnish Green Building Council, and we are also supporters of the #BuildingLife action plan.


The well-being of the planet is important to us, which is why we always strive to design as sustainably and ethically as possible.
OUR VALUES
What we rely on
We care about our clients
Our clients' wishes and needs are the cornerstone of our design work. Our goal is to exceed the client's expectations through cooperation and innovation.
We care about each other
The core of our success is a highly competent and healthy work community. It is important to us that everyone has a good time at work. We encourage and support lifelong learning.
We care of our environment
We create high-quality architecture. We design solutions that are sustainable from the perspective of both the environment and the community. We work ethically and responsibly.
Recruitment
We are continuously looking for new talents
Ready to take on new challenges? We offer you the opportunity to work in an inspiring and highly skilled work community where continuous learning and professional growth are valued. Join us and take a step towards the next peak of your career!
Whistleblowing Channel
Lukkaroinen wants to act responsibly and transparently. We want to make sure that our code of conduct is followed and that we receive information about possible concerns and violations.
In cases of doubt, we encourage you to contact us. In Solwers companies, the primary contact person is your own supervisor, as a customer or representative of another stakeholder group, contact your contact person in Solwers companies. If you feel you cannot share your information openly, you can also share your concerns anonymously using this contact and reporting channel: WhistleB, Whistleblowing Centre.